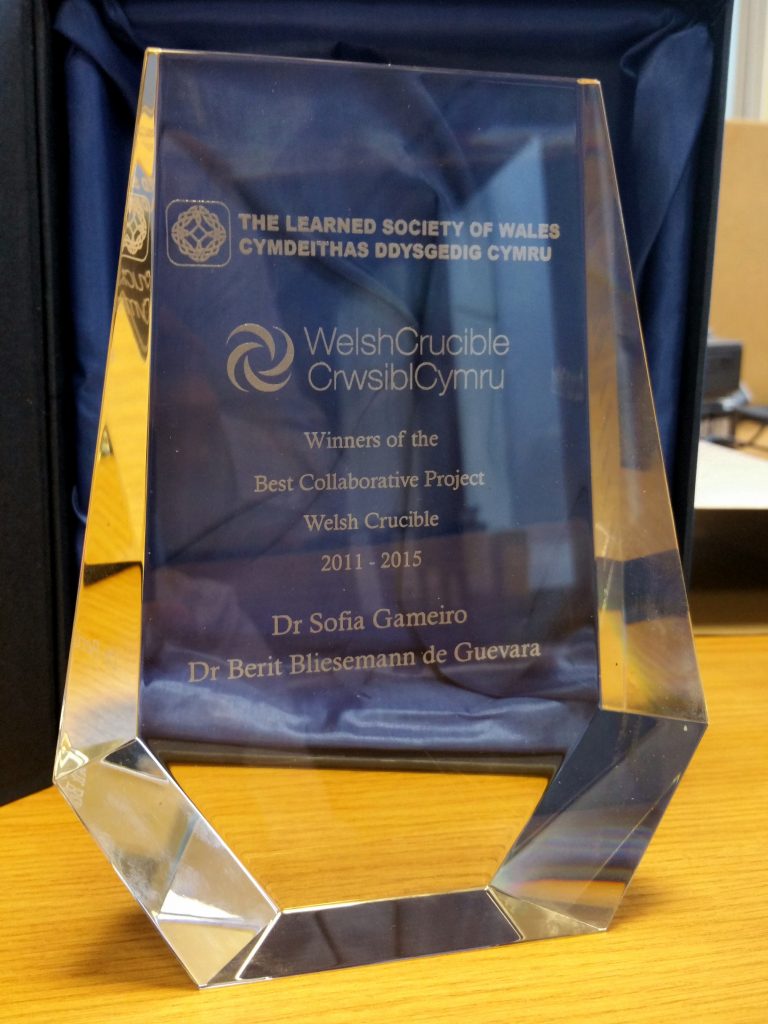 An innovative project exploring experiences of infertility through arts workshops has won the Welsh Crucible/Learned Society of Wales Award for the Best Collaborative Welsh Crucible Project 2011-2015. The award was presented to the PI of the winning project, Dr Sofia Gameiro, at the Welsh Crucible 2017 Lab 3 dinner in Swansea in the presence of this year's Welsh Crucible cohort and invited guests.
The project was a collaboration between Dr Gameiro (a Welsh Crucible 2015 participant from Cardiff University whose research looks at the psychosocial aspects of fertility and parenthood decision-making), Dr Berit Bliesemann de Guevara (an expert in post-war peace-making at Aberystwyth University who also participated in Welsh Crucible 2015), and Dr Lisa El Refaie (whose work at Cardiff University focuses on visual and multimodal forms of communication). Together, they used diverse disciplinary perspectives to explore the experiences of Black and Minority Ethnic (BME) couples coping with infertility. The project aimed to overcome both language and cultural barriers to expressing these difficult experiences through the use of drawing workshops and encouraging the use of visual metaphors.
The research produced a booklet of drawings and quotes from the drawing workshops which has subsequently been presented to BME communities, charities, academics and media outlets. The booklet, Thorns and Flowers, is available online along with a video and other outputs. As a result of the project, the team have been able to inform and advise public outreach officers in the National Assembly on the use of their drawing method as an engagement tool as part of their "creative workshops" toolkit. Further afield, the metaphor-drawing approach is being used in Myanmar to explore civilians' experiences of violent conflict.
The winning project was selected from a strong set of applications which have been generated from collaborations established at Welsh Crucible since its inception in 2011. The applications were assessed by a panel of fellows from the Learned Society of Wales representing expertise across the sciences, arts and humanities. The Learned Society of Wales has an established relationship with the Welsh Crucible programme, with a number of LSW fellows sitting on the selection panel during the competitive application process for places on the programme.
Congratulations to Sofia and Berit on winning the prize and for the continuing impact made by this Welsh Crucible project.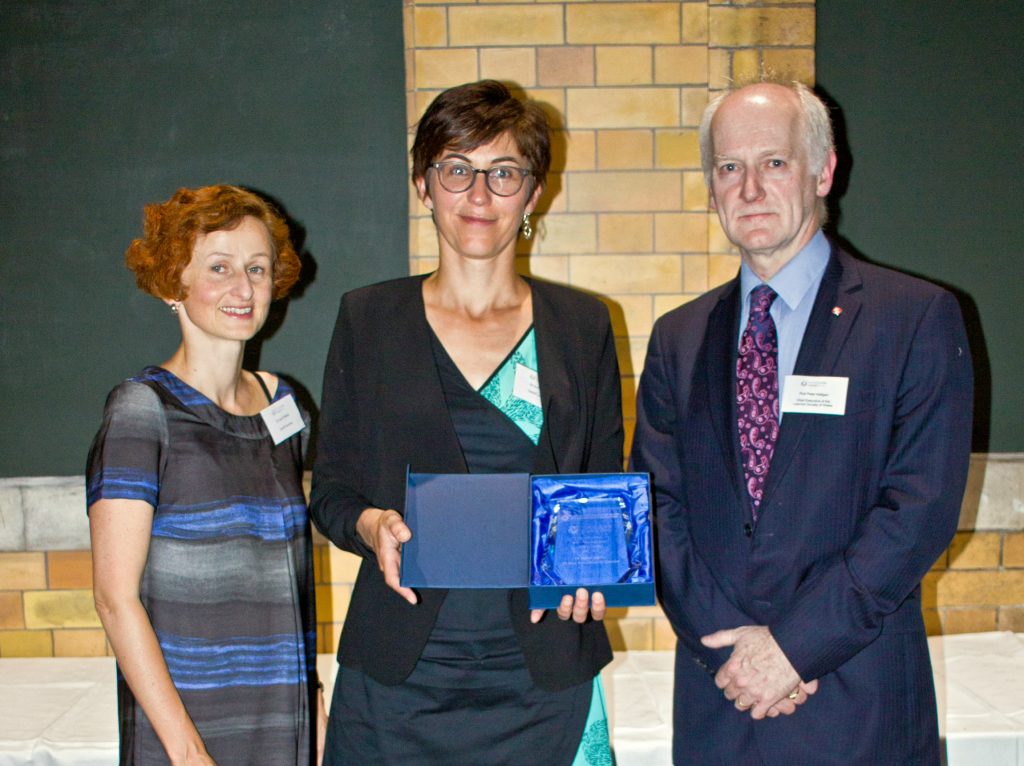 Prof Peter Halligan, Chief Executive of the Learned Society of Wales, presenting the award to Dr Sofia Gameiro (School of Psychology, Cardiff University and Welsh Crucible 2015) and Dr Lisa El Refaie (School of English, Communication and Philosophy, Cardiff University), a collaborator on the project.